Projects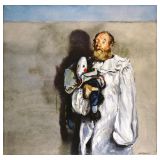 Living cheek by jowl with the vagrants who had begun to doss down in Lenkiewicz's home put enormous strains on the artist's families, but the Lenkiewicz's Schweitzerian experiment was only just beginning. '... Read more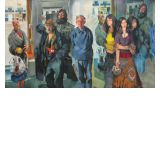 Date:
25 July – 20 November 1974
This exhibition was also shown at Wilmas Galleries in Coventry for ten days commencing 25 November 1974 (exhibition... Read more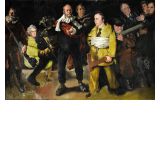 Date:
25 August - 31 October 1976
The Mental Handicap Project, like Vagrancy before it, and the Old Age Project which followed in 1979, are often remembered with the greatest affection by Lenkiewicz's admirers. To persuade... Read more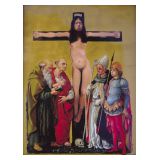 Date:
16 - 31 October 1975
Lenkiewicz produced a series of Projects in the 1970s which dealt with the nature of human relationships, such as Love & Romance (1975), Love & Mediocrity (1976), and human physiology in a... Read more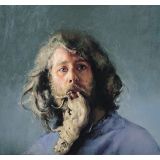 Date:
1 - 24 December 1976
Section Five of the Relationship Series was called Love & Mediocrity and it was a dissection of the notion of fidelity. Titles such as Man and woman trying to kiss each other in front of... Read more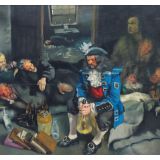 Date:
20 January - 19 March 1975
This exhibition was also shown at the Blenheim Gallery between 6 May and 20 June 1975.
The purpose of the exhibition was explained in the notes for the 1997 Retrospective at Plymouth City Museum... Read more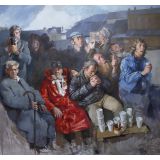 Aspects of this Project first emerged in 1977, such as Local Children: Fight by the Mayflower Steps, also known as Barbican Boys - The Fight. However, the final Project was shown... Read more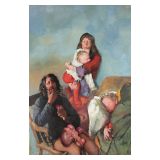 Date:
10 August - 30 September 1977
Addiction to the 'other person' and its consequences was explored in Section Eight of the Relationship Series, Jealousy, shown at The Fool in the late summer of 1977. Several of the notebook's... Read more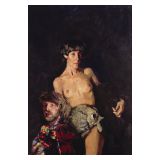 Date:
10 August - 30 September1978
Orgasm, Section Nine of the Relationship Series, shown in 1978:
Orgasm places some part of our consciousness on a tangent to the rest of it; like a Möbius strip, the... Read more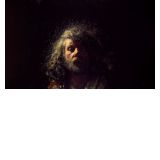 Date:
22 December 1978 - 5 January 1979
Lenkiewicz produced Self-Portrait, Section Ten of the Relationship Series, at the end of 1978, an ironic look at the relationship between the artist and his own self.
I... Read more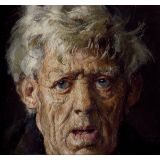 Date:
26 July - 30 September 1979
Robert Lenkiewicz was raised in the Hotel Shemtov in Cricklewood, London, which had effectively become a home for elderly Jews. The influence of such an environment seems to have been profound and not just... Read more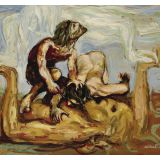 Date:
10 August - 30 October 1980
In the Suicide Project Lenkiewicz put forward the thesis that suicide was in reality "murder through mistaken identity", where the aim of the suicide was not personal extinction but rather the... Read more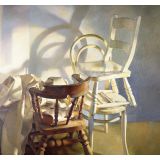 Date:
3 - 6 February 1981
The Old Age exhibition was staged to benefit a charity, but the commercial response was disappointing. However, the lesson of art history that an artist's work is only truly valued after he is dead... Read more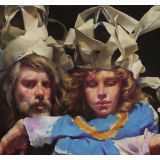 Date:
16 August - 30 September 1981
In an 'aesthetic note' dated 29 November 1978, Lenkiewicz records a tender scene between himself and Mary which occurred at 11p.m. in his studio.
To 'consciously' prepare oneself... Read more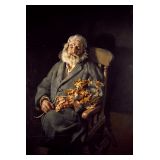 Date:
6 October - 22 December 1982
On 11 February 1982 an article appeared in The Western Evening Herald called The Changing Pattern of Dying. The article began:
To make the kind of request that lies at the... Read more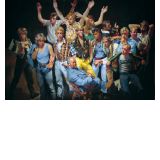 Date:
30 August - 10 November 1983
The Sexual Behaviour Project was another sociological survey and took a straightforward encyclopaedic approach to the predilections of the sitters. It was notable in its engagement with the lesbian... Read more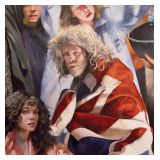 Date:
1 April – 30 October 1988
Long in preparation, Observations on Local Education, his seventeenth Project, emerged in 1988 at the painter's Barbican studio. 92 of the works had been previewed between 19 July - 3 August at... Read more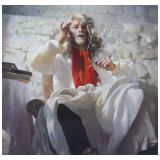 Date:
8 - 15 January 1994
Works from what became Project 18, 38 in all, were first shown at the New Street Gallery between 17 December - 28 January 1989. Two further showings of work followed there in January 1990 (47 works) and... Read more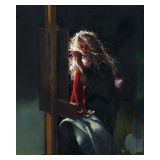 Date:
13 August - 30 October 1995
The strain of producing more than a hundred finished canvasses for the 1994 showing of Project 18 at the ICC in Birmingham exacerbated Lenkiewicz's heart condition. He underwent heart by-pass surgery at St... Read more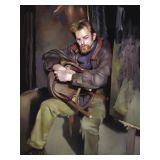 In the year after the Landscape Project, Lenkiewicz returned to the theme of vagrancy, restoring and reworking a number of works on sailcloth dating from the original Project. However, new images... Read more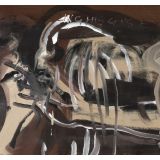 Date:
10 June - 1 July 2000
Having visited the monastic tradition for his St Antony and St Jerome themes, biblical inspiration appeared again in Lenkiewicz's work in the form of studies for a planned Project called The Harrowing... Read more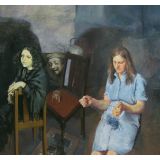 The early years at the Hotel Shemtov, St Martin's School of Art and the Royal Academy, 1941–1965
Robert Lenkiewicz was born on 31 December 1941 in Cricklewood in London, non-... Read more