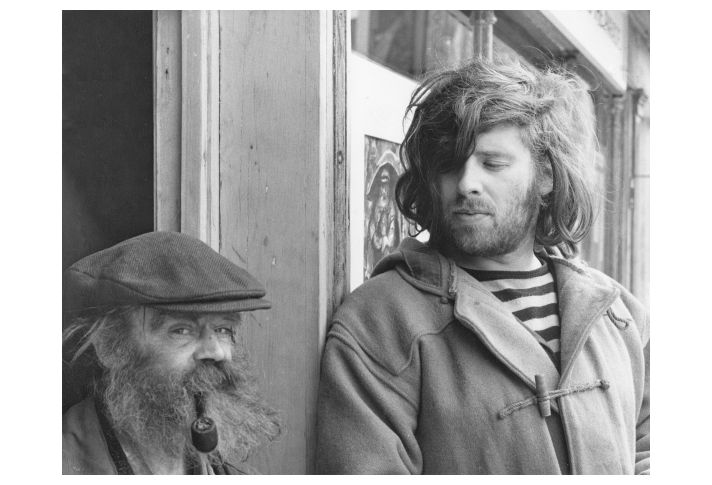 In the twenty years since Robert Lenkiewicz's death in August 2002, The Lenkiewicz Foundation has worked to secure a lasting legacy which will ensure the preservation of as much of the artist's archive as possible. His voluminous diaries and notebooks are now stored securely, courtesy of The Box (Plymouth Museum), and much of the archive has been digitised and is available on the Foundation's website or on request to researchers or for educational purposes.
Later this year, the second and concluding part of the comprehensive first biography by Dr Mark Price, commissioned by the Foundation, will be published.
As many people know, after Lenkiewicz's estate was resolved, the Foundation became the custodian of an embalmed human cadaver under a license issued by the Human Tissue Authority. The remains are of the vagrant Edwin Mackenzie (1912-1984). Known as Diogenes, Edwin worked for fifteen years as an assistant to the artist Robert Lenkiewicz (1941-2002) at his studio in Plymouth. With Edwin's permission, after his death the body was professionally preserved, becoming a thought-provoking artefact within the painter's extensive library on the theme of death.
The question about Diogenes' long-term future is one which the Foundation has consistently asked itself, considering both practical and ethical issues. With increasing costs associated with the licensing requirements, this question has become more pressing in recent years. Various avenues have been explored, including approaching suitable national collections and museums which have philosophical and educational links with Lenkiewicz's ideas, in the hope that they would be interested in adding Diogenes to their collections. All the institutions approached expressed similar ethical concerns about long-term exhibition, storage and care. Therefore, it is with sadness that the trustees of the Foundation have taken the difficult decision to arrange an appropriate burial.
The story of Diogenes still exists and much of the associated documentation about him and his relationship with Robert Lenkiewicz is now in the public realm. There will remain, of course, the countless paintings and drawings that Lenkiewicz produced of his friend over many years.
Francis Mallett
Chair of Trustees