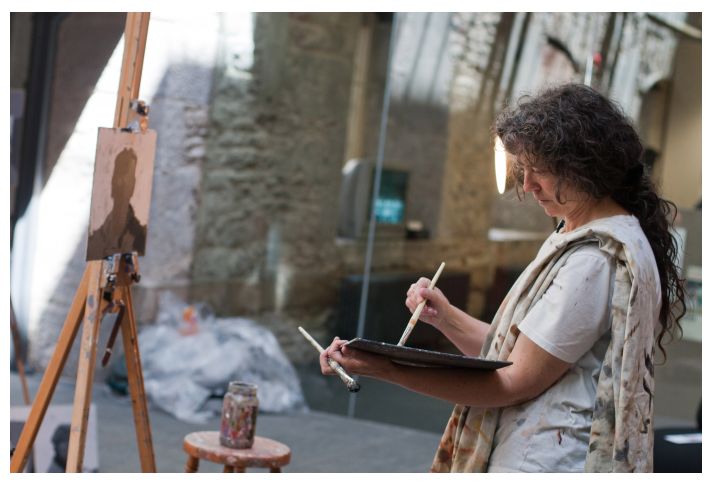 Louise Courtnell met Robert Lenkiewicz in 1987. He became her mentor and teacher and there followed an intensive two year 'apprenticeship' in painting, which concentrated on the understanding of tone.
Her work includes landscape and still-life, however she has always had a passion for portraiture. She has been a regular exhibitor at the National Portrait Gallery, (BP Portrait Award) from 1991 to 2001 and was commended for two self-portraits. Commissions have included Dr. Rowan Williams, (2002) and Robert, Earl of Edgcumbe, (2008).
She reveres the work of Rembrandt and Van Dyck. In her opinion, the greatest and most moving paintings ever made were Rembrandt's late self-portraits, which remind us of our own mortality and humanity. She also feels strongly that there is a place for the observational painter in a world of the instant, digital image.
Courtnell has run a painting class in Kingsand for 17 years and gives private tuition, following Robert's approach to painting.
In 2003, she began Project Lydos, a series of 50 oil paintings of two generations born in the twin Cornish fishing villages of Kingsand and Cawsand, between 1910 and 1944. She wanted to make a visual record of her local community. An important part of the project was to include a childhood photograph, a brief personal history and memories of village life spanning half a century. The paintings were done solely from life and required an average of sixteen hours of sittings. Some were painted in Courtnell's studio and the remainder in the residents' own homes.
Read more at Louise Courtnell's website.
Visit the TLF YouTube channel to watch previous painting demonstrations by Louise Courtnell.