Presenter:
Robert Mendick, Chief Reporter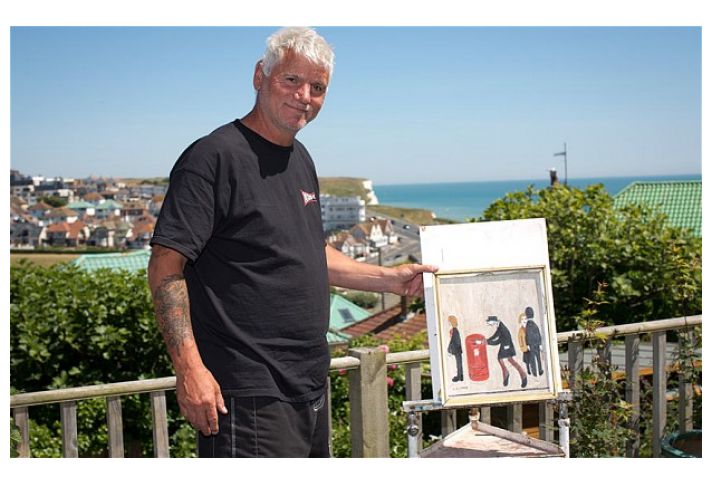 I churn out fake Lowrys to sell on eBay for thousands, amateur artist admits
Daily Telegraph 6 July 2014 by Robert Mendick, Chief Reporter
Artist says that paintings in his own name did not sell so he began faking Lowrys and selling them on the internet auction site to earn a living.
An amateur artist has admitted to The Telegraph churning out fake copies of LS Lowry's paintings and selling them on eBay for up to £3,000 each.
David Henty, 56, who was jailed in the Eighties for a forged passport scam, has boasted of faking the Lowry pictures and selling them to unsuspecting customers through the internet auction site.
The Telegraph tracked Mr Henty to his home in Brighton in the course of this newspaper's investigation into forged art.
Mr Henty has sold hundreds of fake paintings through his eBay site over the past five years, earning tens of thousands of pounds. He drives an open-topped car with the number plate "V9OGH" in recognition of his skills as a counterfeiter of van Gogh's work, among others.
Last week eBay shut down Mr Henty's website along with seven other accounts based in Brighton believed to be selling fake paintings. One of those belonged to Mr Henty's daughter Siobhan and two others were run by two of his brothers Tony and Steve Henty. Between them, the Hentys have sold thousands of art works, many of them fakes.
Confronted at his home, Mr Henty said he had done nothing wrong and at first denied he was faking pictures himself. But in a change of heart, he confessed to painting dozens of Lowrys but insisted he was not responsible for all the hundreds of fakes by other well-known artists which he has sold on his eBay site.
He then showed The Telegraph reporter and photographer around his home, including an underground storage room where he keeps old canvases, which he paints over, and old frames bought in junk shops and auction houses which he uses to give his pictures a further appearance of authenticity.
Two easels are set up in his £500,000 home, one in his living room and the other in his garden. A brilliant copy of a painting by Jack Vettriano — a gift to his partner — hangs in their bedroom.
Last week, he put on eBay a new Lowry called The Postbox, which he was selling for £225. The painting is a copy of an original sold at auction for £165,000 in 2011.
The listing on his eBay site declares: "Oil painting on canvas titled The Postbox. Signed LS Lowry. Frame size 14" by 12. Painting size 13" by 11". Three oil repair patches on the reverse".
The billing goes on to state: "No paperwork or provenance, sold as after LS Lowry." In fact — as Mr Henty knew full well — there is no paperwork or provenance because he painted the Lowry himself.
A previous Lowry, priced at £650 and sold earlier this year, he claimed to have found "straight from a local house clearance". Again, Mr Henty knew this statement was false because he painted it in his living room.
Mr Henty at first told The Telegraph: "I buy them [the paintings] from weekly auction houses and I sell them [on eBay]. They are sold as after the artist which is perfectly legal. There is no problem with it. I have never sold them as the genuine article and the prices reflect that.
"Of course I am not doing them myself. The amount I used to sell I couldn't possibly do them. I have auction receipts. I have a wide range of stuff. There are not enough hours in the day for me to paint all this stuff." Mr Henty said he had taken legal advice from a lawyer.
"A friend of ours is a solicitor and I went to see him and said: 'If I have not got provenance is this legal?' He said it is perfectly legal as long as I don't produce false documents to go with them. Just to say 'after' is fine. It is above the law. You are not representing it as genuine."
Asked if he painted the Lowrys sold on his eBay account and that of his daughter, he said: "I cannot say." After a pause he said: "Sometimes I have a power. I get relaxed and all of a sudden there is a Lowry. He has come down, inhabited my body and there is a picture. You do feel like that."
Mr Henty added: "I was the only one doing Lowrys at first and now everybody is doing them badly. This is what kills me. "The one I did the other day [The Postbox] was a lovely Lowry. They are not knocked up in two hours."
Mr Henty said he enjoyed adding to the "mystique" of the fakes by hinting they might be authentic by claiming the canvases had oil spills on them or had been discovered in a house clearance. "It gives it a bit of magic. You know it's not real for £225. You [the customer] know I would have taken it to the auction house but there is a little bit of a chance it could be [genuine] and it sits on the wall nicely.
"I also do Monets. I love Monet. The Impressionists are quite easy to do. I am self taught. I have stacks of art books I read through. I can just do the signatures. You do get an affinity for the artist. You see things through their eyes. When I was in Spain I did loads of van Goghs."
He pours scorn on his rival copiers, who he says have ruined eBay as a source of a good living.
Last week, TheTelegraph disclosed the identity of another amateur artist, Geoffrey Spilman, who was arrested for forging watercolours by a living artist who complained to police. After his arrest, Mr Spilman contacted Mr Henty to ask how he circumvented the law.
Mr Henty was damning of the quality of the fakes being sold by Mr Spilman. He said: "If you know Lowrys they [other forgers] use the wrong colours. He only used five colours his whole life. I have to have an interest in an artist to copy him. I would call myself a copyist not a forger."
Mr Henty tried to sell his own works on his own internet site in 2008 selling his portraits of the artists Lucian Freud, Francis Bacon and Damien Hirst. But his paintings either never sold or realised very low prices and he could not make a living from them. A year later he launched his eBay site, selling his Lowrys and other copies.
"I tried my own works," he said, "I spent weeks at it. But if you haven't got a name you can't sell. It's heart breaking. If I put them on eBay admitting I painted them myself I wouldn't sell it. If I say it is 'after Lowry' it is a bit of smoke and mirrors and all of a sudden it sells."
Administrators at eBay have received complaints about Mr Henty's practices. Two years ago, The Lenkiewicz Foundation (TLF), which represents the estate of the British artist Robert Lenkiewicz, whose paintings sell for tens of thousands of pounds, complained about 15 paintings purportedly by the artist being sold on eBay. Seven of them were on sites run by Mr Henty and his family.
In the letter to eBay, Francis Mallett, TLF's chairman, wrote: "None of the items for sale were painted by Robert Lenkiewicz. Some sellers, despite caveats about provenance, nevertheless include biographical information about Lenkiewicz in an attempt to authenticate their item. He added: "It may also interest you that in some cases the seller is listing fakes by other painters, suggesting this is an organised fraud and not a genuine error of attribution."
"TLF would be grateful if you could keep us informed with the inquiry. In the case of eBay sellers who have listed multiple items of this sort, the Foundation believes that a criminal investigation would be appropriate and would be happy to cooperate in any way it can."
eBay ordered the withdrawal of the Lenkiewicz paintings but allowed Mr Henty to keep selling on his site.
Mr Mallett said last week: "We were convinced Mr Henty is a serial faker. What he was doing is very damaging for the artist. It destroys the integrity of their work and their reputation."
Michael Simpson, director of visual art and engagement at The Lowry, the gallery in Salford dedicated to his work, said: "LS Lowry was one of the most influential and iconic artists of the 20th century. As such, his work has been copied or recreated many times for both innocent and fraudulent reasons."
A spokesman for eBay said: "Counterfeits are illegal and are not welcome on eBay. We take action against those who attempt to list counterfeit items and we are investigating the way we handled previous complaints against these sellers.
"We spend millions of pounds each year maintaining a safe site and have advanced detection measures and tools but we are sorry that in this instance we did not live up to our usual high standards in identifying and eliminating counterfeits.
"We have reviewed these accounts and recognise that some complaints have previously been received regarding counterfeits. In light of this, all these accounts and any others used by the sellers have now been suspended, and these individuals will not be permitted to sell on eBay again."