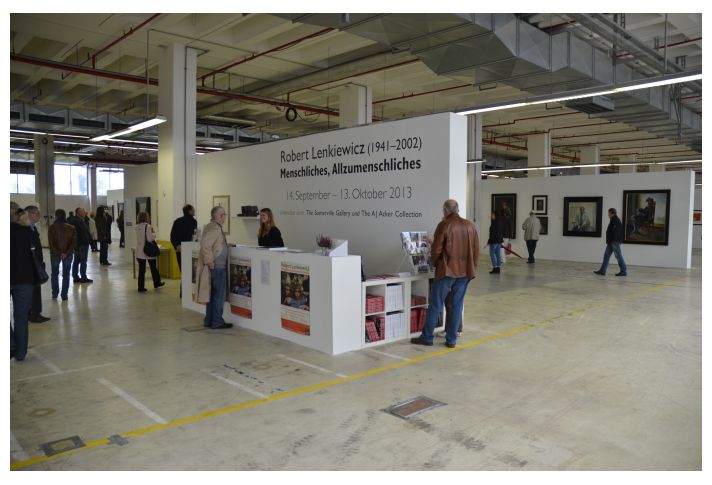 Three days of rain gave way to clear sky over Nuremberg for the opening of TLF's touring exhibition Menschliches, Allzumenschlices. 1,500+ visitors passed through the space in the first six hours. The exhibition has enjoyed editorial attention in 'The Süddeutsche Zeitung', southern Germany's regional newspaper, as well as a couple of local papers and several national art magazines. The mayor announced the opening of Auf AEG's 4th annual event – a Nuremberg cultural favourite. UPDATE: Good though the attendance figures for the opening day were, the second day broke all existing TLF records as the exhibition visitor count topped 6,000 for the two days - we have high expectations for the month to come. The Nuremberg audience has proved to be interested and engaged with the paintings and information, spending ample time within the space.
The exhibition takes place within the Auf AEG industrial complex - a converted metropolis of modern industrial factory space transformed into a creative community. Our exhibition sat within a programme of open studios, craft, painting, sculpture and print as well as countless miscellaneous creative pop-up projects. Notable exhibitions included the Artist Pension Trust (APT) curated by ELEVEN+.
Video
Exhibitions Officer John-Paul Somerville introduces the current exhibition in Nuremberg. Film by Jeremy Elman.